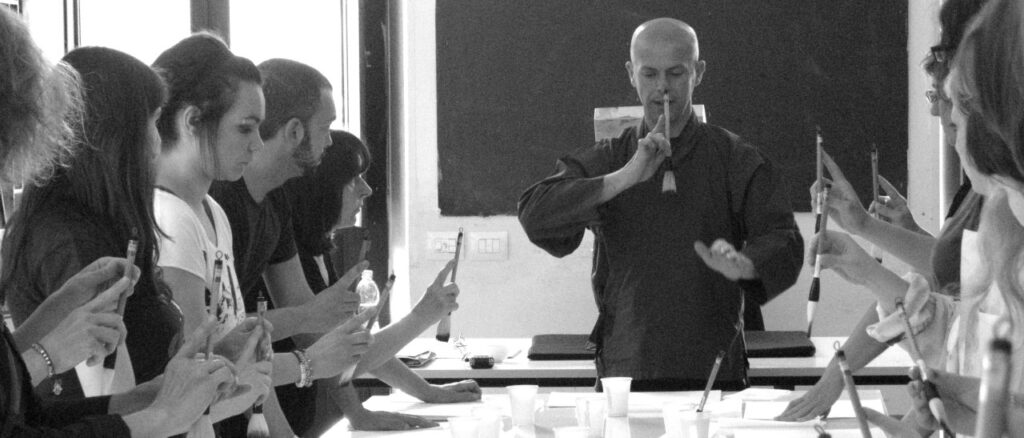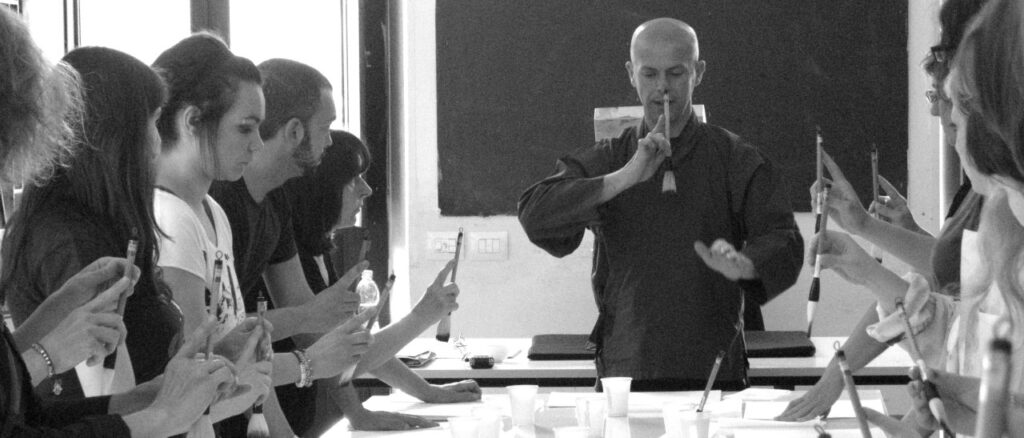 This way of painting
is complete
and involves
the whole body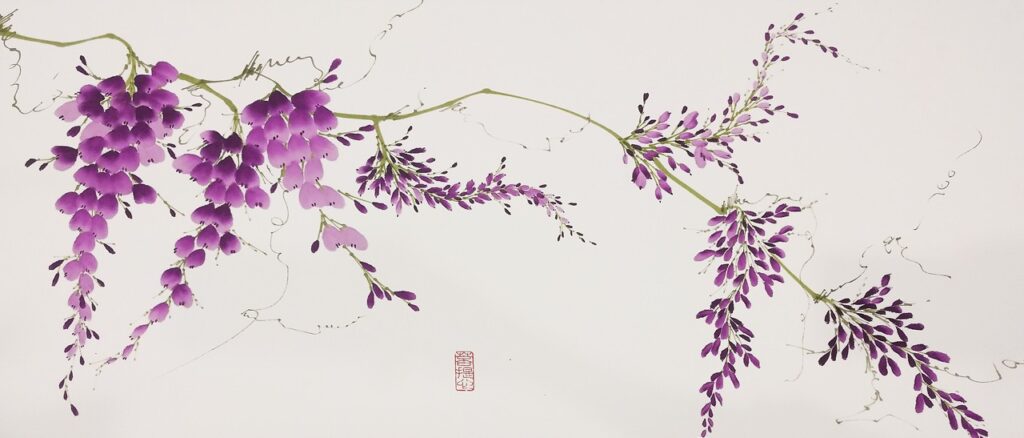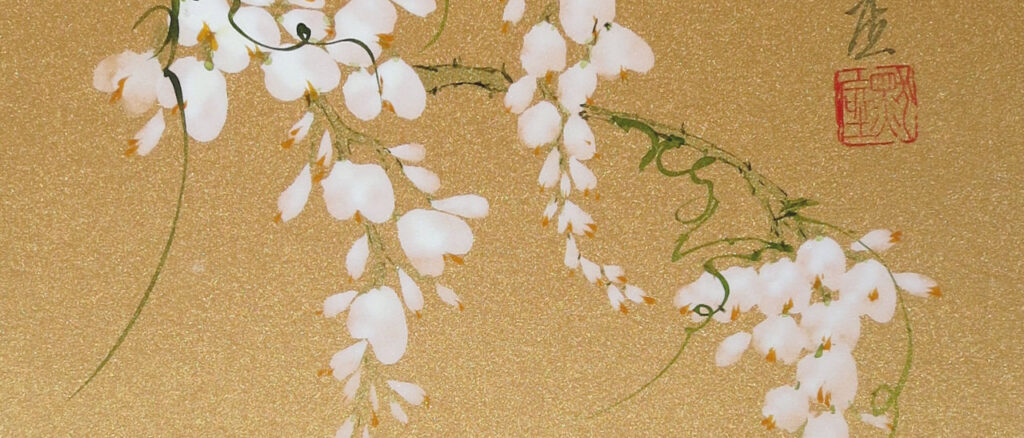 "The art of painting unveils
the mystery of the universe"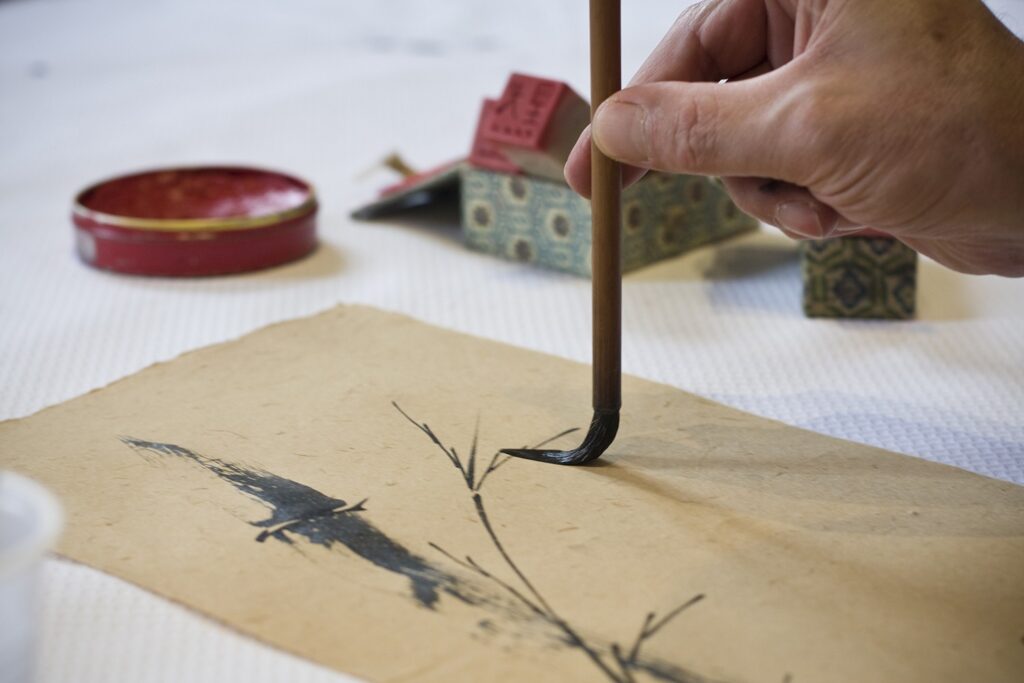 "Well then, I talk with my hand,
you listen with your eyes.
This subtle exchange cannot be
understood by vulgar people.
You think the same, don't you?"

"An old saying affirms that those who are immersed in painting will live longer
because life created by the touch of the brush strengthens life itself."
According to ancient Chinese tradition, the harmony of a work of art reflects the universal harmony of the Tao (Do in Japanese), which is the supreme and inconceivable principle that has generated the world and rules the secret rhythm of nature. It is not by chance that the dominant feature of great Chinese painting is landscape, which is always subtly realistic and metaphorical at the same time. Human figures and man-made things never avert your eyes from the painting's focal elements, such as a mountain, a waterfall, a tree, bamboo or an orchid.
In fact, their position establishes a climate of symbolic correspondences and by analogy, refers to balances established by the Tao between Heaven and Earth, man and nature, gravity and lightness, fullness and emptiness. Whether in a living being or in any human creation, Ch'i (Ki in Japanese) circulates in all things. It is a spirit, a breath and an intangible force. It is a concept which may appear vague and annoyingly metaphysical to Western sensibility. However, the ideograph of Tao (Do) means "The Way", and a way (path) is made to taken and followed.
FOLLOW US ON SOCIAL MEDIA!
EXCEPTIONAL EXHIBITION IN THE HEART OF AMSTERDAM !
From January to March 2020, a collection of original and unpublished works by the Zen and Sumi-e Master Beppe Mokuza Signoritti was presented at the art'otel in Amsterdam.
Sumi-e paintings, in classic style reflecting traditional themes, such as landscapes and the 'Four Gentleman' (Bamboo, Orchid, Plum tree and Chrysanthemum) have been exhibited in this special location.
Moreover paintings inspired by the 'Zenga' technique, typical Zen Style with black and white sketches, and also abstract and innovative representations have been put in display.
The exhibition was considered by many to be a very rare opportunity to admire authentic works by one of the most respected sumi-e masters in Europe.
Such an artistic production is indeed the expression of a deep spiritual search that flourishes through the practice of Zen and whose essence is revealed in sumi-e.

By practicing sumi-e you come into direct contact
with your own body, your own psychic balance
and possibly with your own spirit

For any further questions or information, do not hesitate to contact me by filling in the following form: