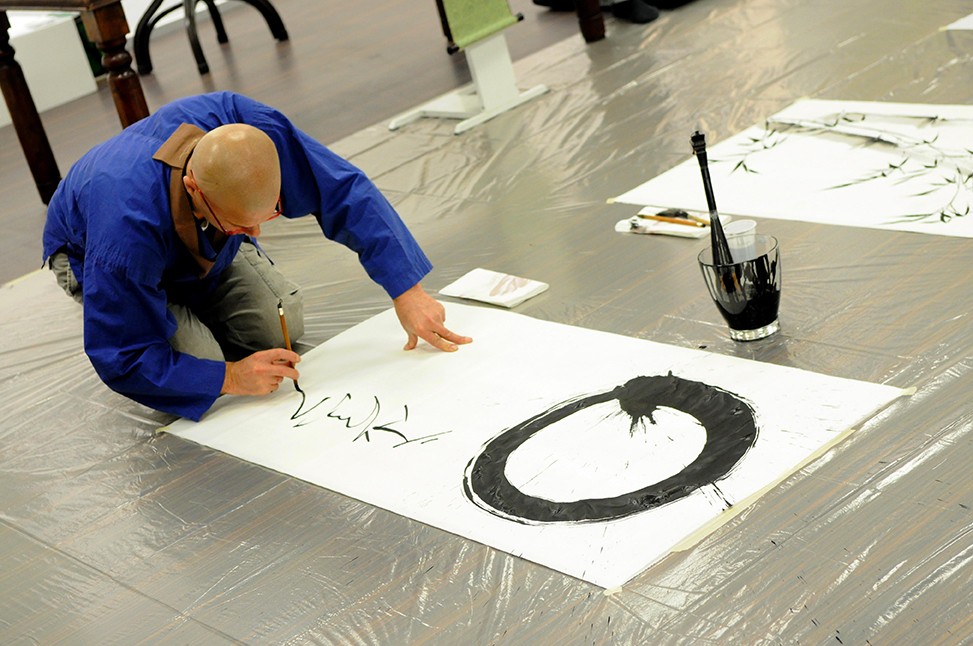 CURSUSSEN VOOR SCHOLEN
Voor het beginnersniveau bevat de cursus 6 of 7 lessen die elk 2 uur duren.
Voor degenen die door willen gaan, kan een vervolg cursus worden georganiseerd. Aan de deelnemers wordt nadrukkelijk gevraagd om de cursus waaraan ze begonnen zijn tot het eind toe te volgen; De leraren in het westen hanteren een leermethode van korte opeenvolgende lessen ,anders dan de zes maanden, een jaar of 10 jaar durende cursussen in het Oosten. Op deze manier kan de leerling stapsgewijs  in de vooruitgang van het schilderen worden begeleid en is de continuïteit gewaarborgd.  

Cursusinhoud
• Een korte introductie in de betekenis van de bamboe in Sumi-e schilderen.
• Presentatie van materiaal: papier, penselen,Chinese inkt en de inktsteen.
• Presentatie van beelden die kunnen worden nageschilderd zoals stammen, takken, knopen(overgangen in de stam van de bamboe), en bladeren. Zodat uiteindelijk een volledige bamboe kan worden geschilderd op het papier.
• Presentatie  van een model dat wordt gemaakt door de leraar.
  

Methode
• Sumi-e is een schilderwijze die aanvankelijk is gebaseerd op leren in onmiddellijk contact met de leraar. Je leert door modellen die geschilderd zijn door hem/haar te kopiëren of door het naschilderen van klassieke kunstwerken.
• In "Sumi-e" is kunde, technische perfektie of talent niet essentieel, iedereen kan leren zolang  de geest van de leraar gevolgd wordt in zijn of haar instructies die zijn gebaseerd op  intuïtie.
• De relatie tussen leraar en leerling is gebaseerd op nabijheid en voeding waarin de onderlinge relatie fundamenteel is om de moeilijkheden die ieder individu tegenkomt te overwinnen.
• De leerlingen werken samen in kleine groepen in een natuurlijk kalme, stille sfeer van concentratie en harmonie. Er is geen competitie aangaande de resultaten, alleen geduldig werk  van herhaling en het bijschaven van de eigen gevoeligheid om een unieke uitdrukkingskracht , een vloeiend gebaar te bereiken, alsof een bloem, rots of bamboe een natuurlijk voortvloeisel is van het eigen lichaam.

  Benodigdheden
• Een goed verlichte, stille en comfortabele ruimte, met één of twee grote tafels of aparte tafeltjes voor elke leerling.

  Lijst van materialen
• Chinese inkt (reeds voorbereid)
• middelmaat Chinese penselen
• rijstpapier voor uiteindelijke schildering(test)
• rollen keukenpapier of papieren zakdoeken
• kopjes(papieren of plastic bekertjes)
• stapel kladpapier/schetspapier

  Course details
• The course is addressed to single classes and offers an availability of seats for 25-30 people (maximum).
• The suggested time frame is from January to June 2013 with 5 meetings of two hours each, the class schedule is to be agreed on together with the school teachers, based on the students' needs.

A free practical and theoretical demonstration of Sumi-e painting will be provided for teachers and students lasting about one hour. Overall cost is € 20.00 (per participant) for seven 2-hour lessons; the above listed material is provided for by the instructor free of charge.

RESIDENTIAL COURSES, PAINTING DAYS, EXHIBITIONS AND OTHER INITIATIVES
Residential seminars and days dedicated to Sumi-e, Zenga and Suybokuga painting are organized for groups of children, adults, and differently able individuals.
Exhibitions also take place in informal locations; conferences are held and practical demonstrations are given to a wide variety of people and whoever is curious about approaching artistic expression in a "new" way and experiencing it directly is welcome.